戴卫 · 奇普菲尔德建筑事务所作品丨浙江自然博物院
David Chipperfield Architects Shanghai丨Zhejiang Museum of Natural History
浙江自然博物院位于中国杭州,创立于1929年,馆藏20万余件标本,涵盖地质学、生物学和古生物学领域。中国东部的浙江省拥有许多白垩纪时期的重要发现。该院的第二座,也是新建的博物馆坐落于浙江北部的安吉县,成为一个文化新区的核心建筑。
Founded in 1929, the Zhejiang Museum of Natural History is located in Hangzhou and has a collection of over 200,000 specimens covering geology, ecology and palaeontology. The eastern Chinese province of Zhejiang is the site of many important discoveries from the Cretaceous period. A new, second branch of the museum has been established in Anji, in the north of the region, forming the centrepiece of a new cultural district
入口凉廊 View to entrance loggia © Simon Menges
新馆建在坡地上,被一个巨大的自然公园的竹林环抱,远眺低处山谷的田野。一系列宽敞的展厅组成松散的架构,以容纳大型展品:恐龙化石、全尺寸模型、大尺度的野生动物布景,以及多媒体和互动展示元素。
The new museum is set on a sloping site in a large natural park surrounded by bamboo forests and overlooking rice fields in the valley below. It comprises a loose infrastructure of spacious exhibition halls, taking into account the large scale of some of the exhibits: Dinosaur fossils and life-size models, large-scale wildlife dioramas, accompanied by multimedia and interactive exhibition elements.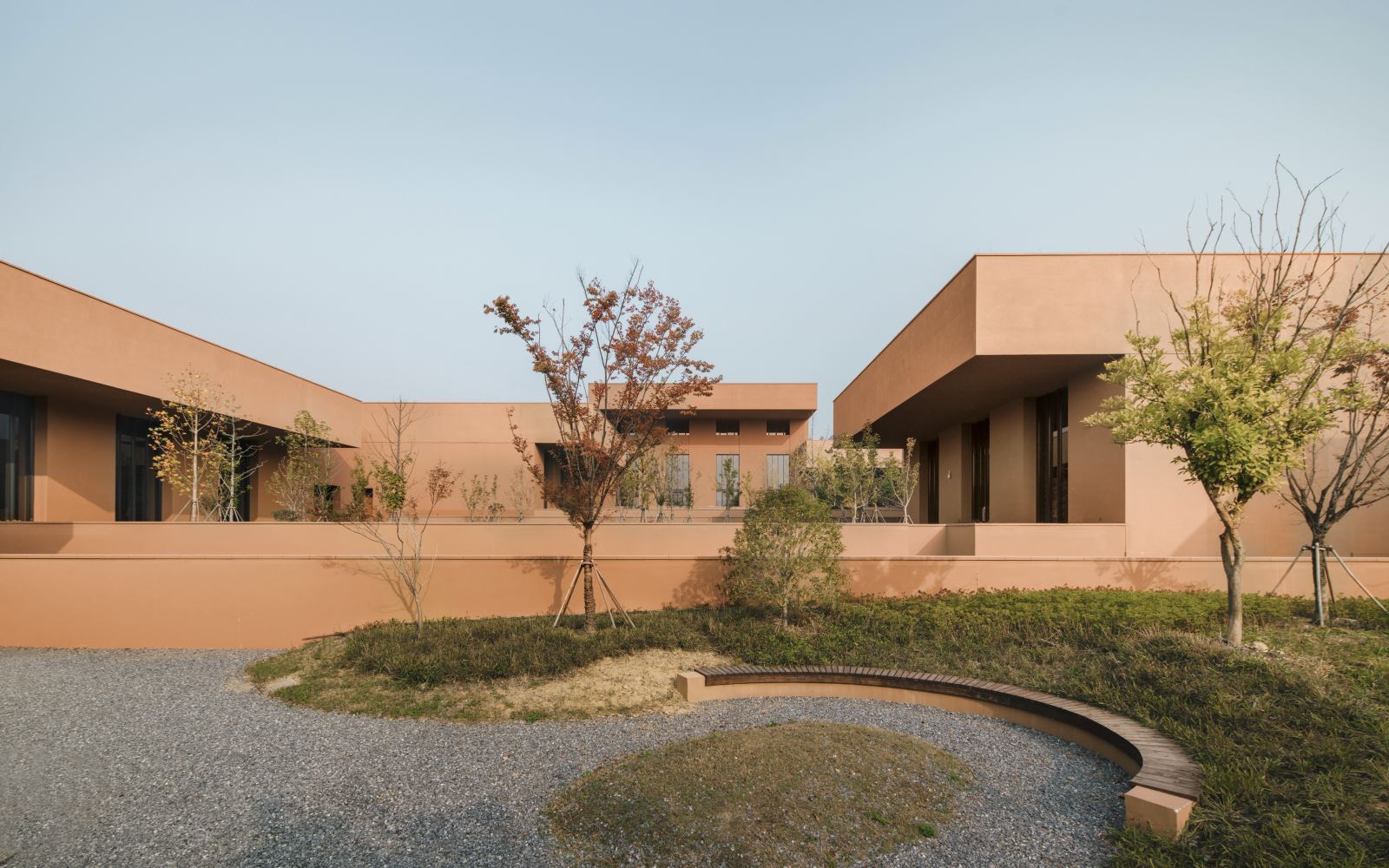 庭院南侧视野 Garden view from south © Simon Menges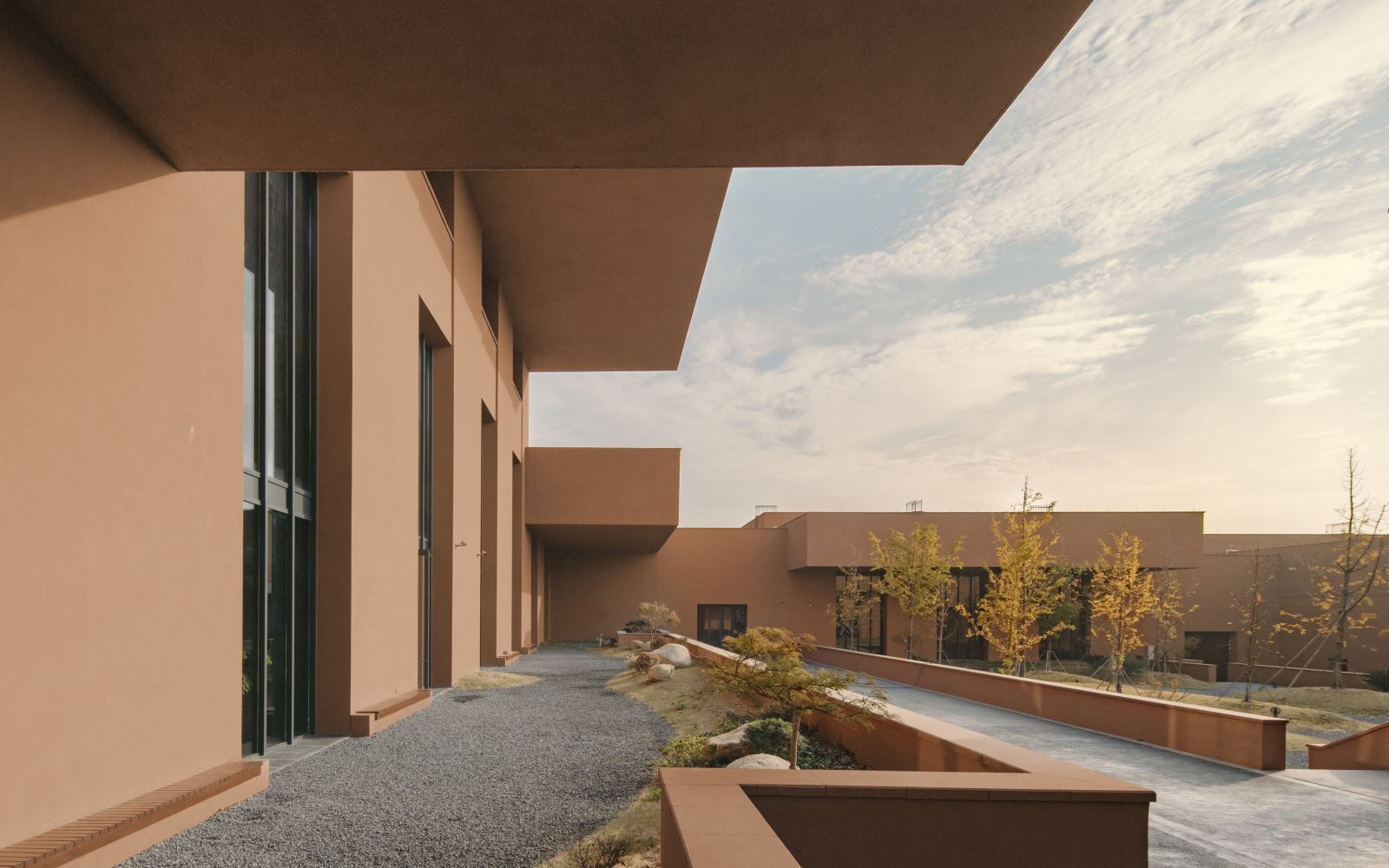 庭院西侧视野 Garden view from west © Simon Menges
错落的8个单层长条形展厅沿坡地逐级布置。它们顺应自然地形,最小化建筑对景观的视觉冲击,通知围合了一个开敞的内院。凉廊,也可视作提供遮蔽的走廊,环绕这个中央空间,调和室外空间与博物馆的室内空间。
The staggered composition of the eight, single-storey, bar-shaped pavilions step down the hillside. They follow the natural topography, minimising the visual impact on the landscape, and frame an open garden. A loggia, or covered walkway, loops around this central space, mediating between the external and internal areas of the museum.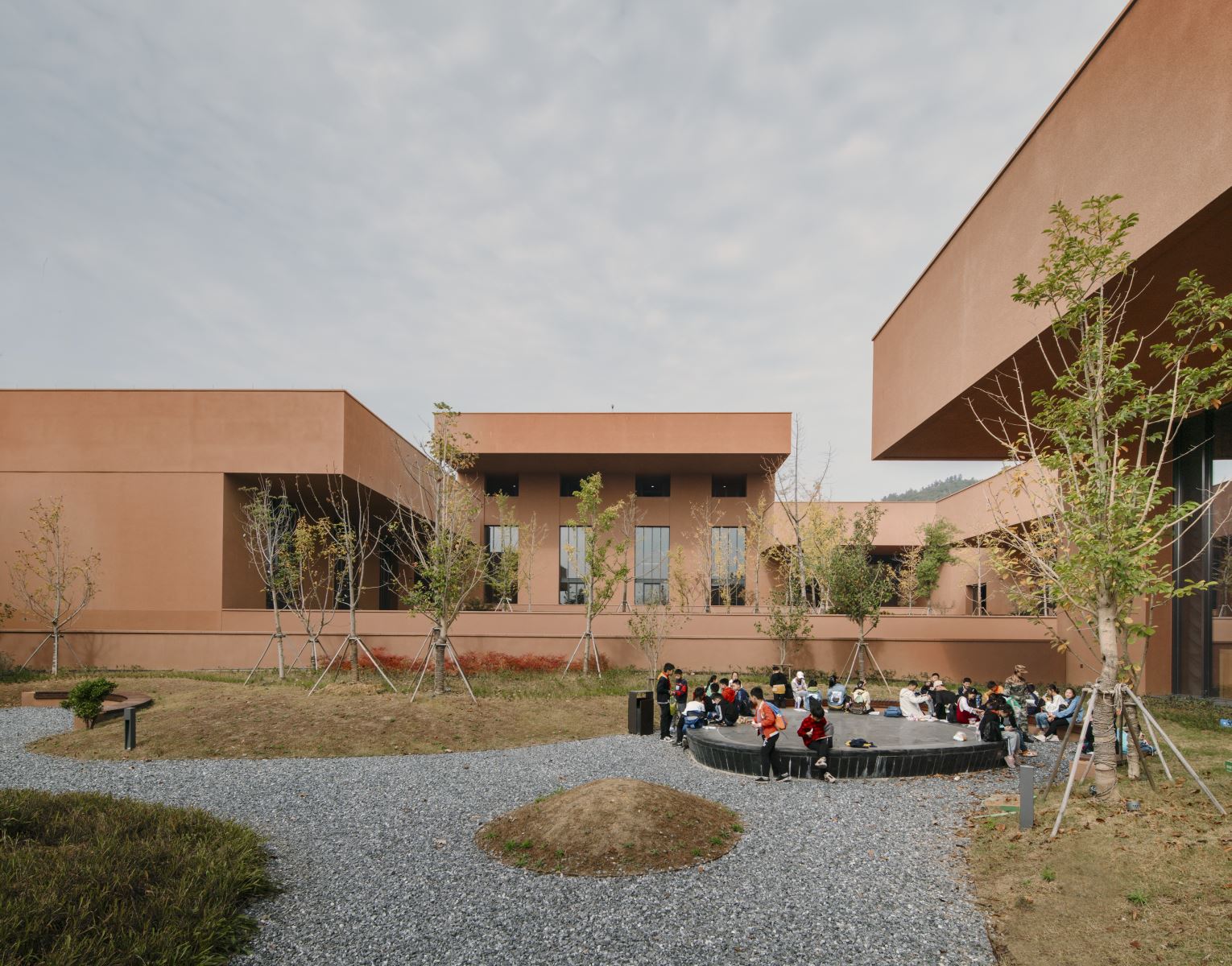 庭院南侧视野 Garden view from south © Simon Menges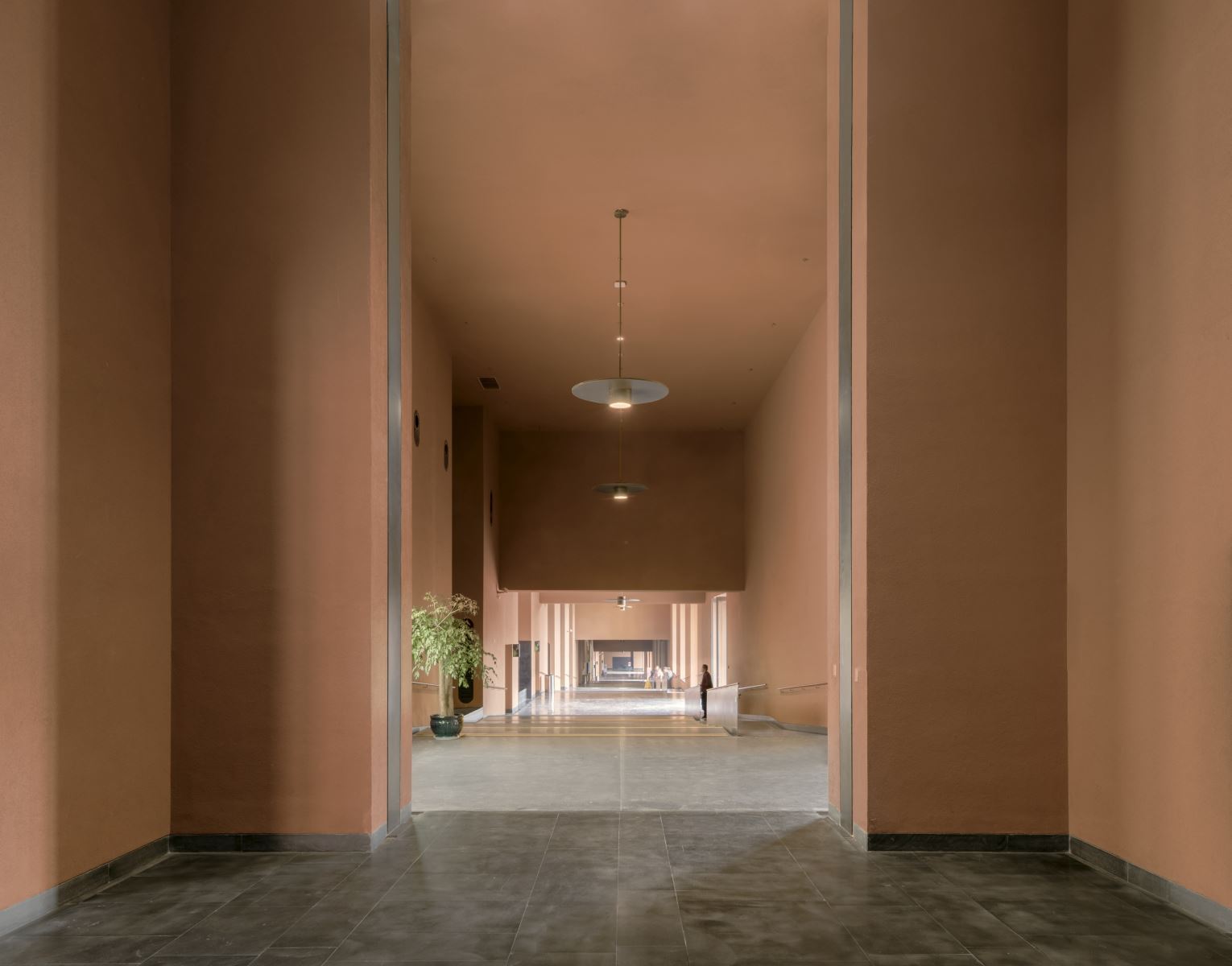 室内走廊 Interior corridor © Simon Menges
在建筑的最北部,入口厅迎接参观者,同时提供了面向中央庭院和远处景观的视野。每个展厅既可以从中央庭院两侧分别进入,也可以通过逐级而下的凉廊连续参观。最南部的建筑体量面向基地最低处的湖泊。
At the northernmost point, an entrance pavilion welcomes visitors and offers views over the central garden and landscape beyond. Located on either side of the garden, each exhibition hall can be accessed directly or in sequence following the stepped loggia. The southernmost pavilion faces out towards a lake at the lowest end of the site.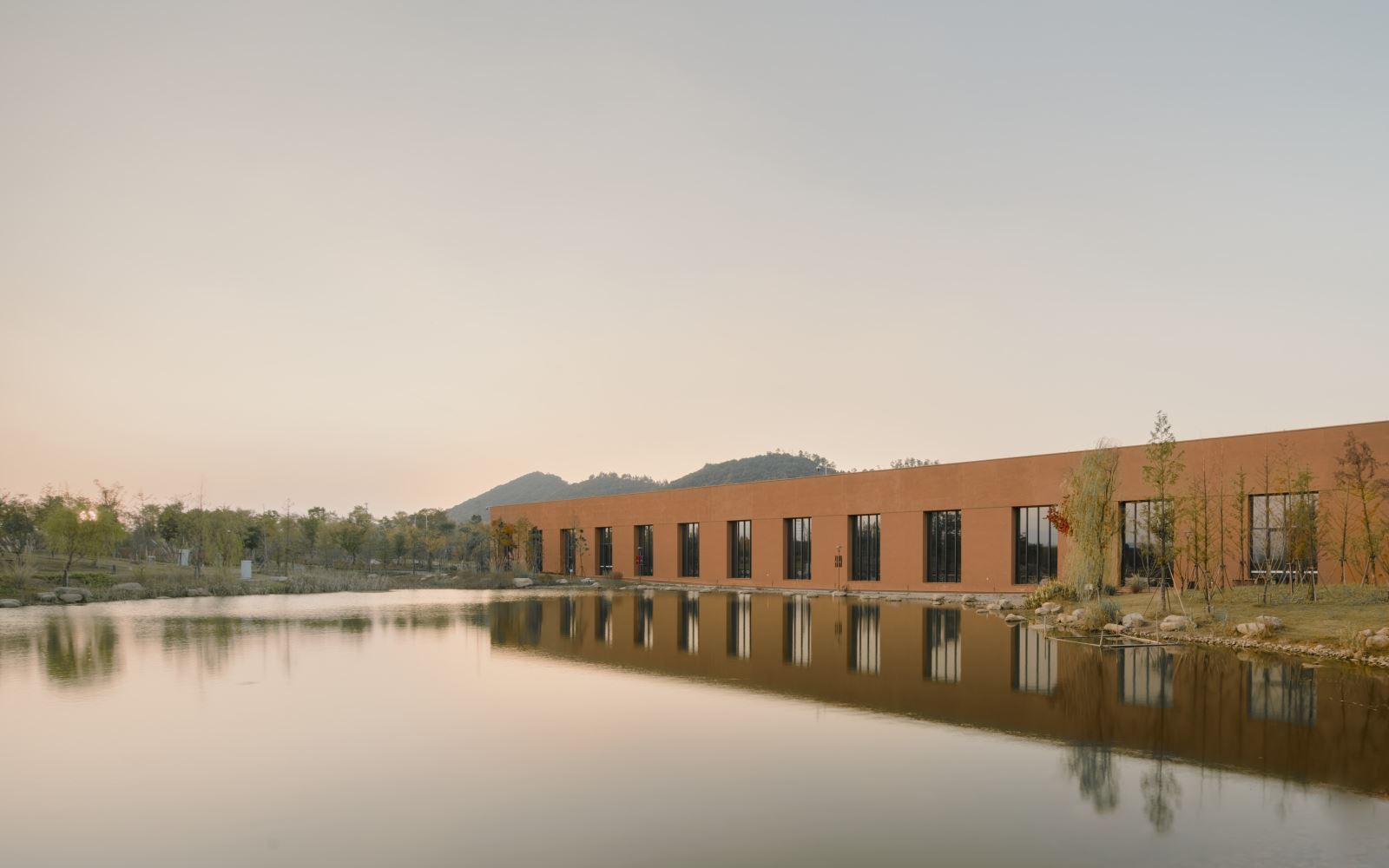 湖泊 View from lake © Simon Menges
展厅坚实的建筑形式嵌入在中央庭院和周围公园的浓密景观中,植被延伸至绿化屋顶。建筑组群表面粉饰红赭色涂料,与场地山坡上的黏土颜色相近,强化了建筑和景观之间的联系。
The solid forms of the pavilions are embedded within the dense landscaping of the central garden and the surrounding parkland. The planting extends onto the green roofs of the building complex which is rendered in red ochre to match the clay earth of the hillside site, reinforcing the relationship between the museum and the landscape.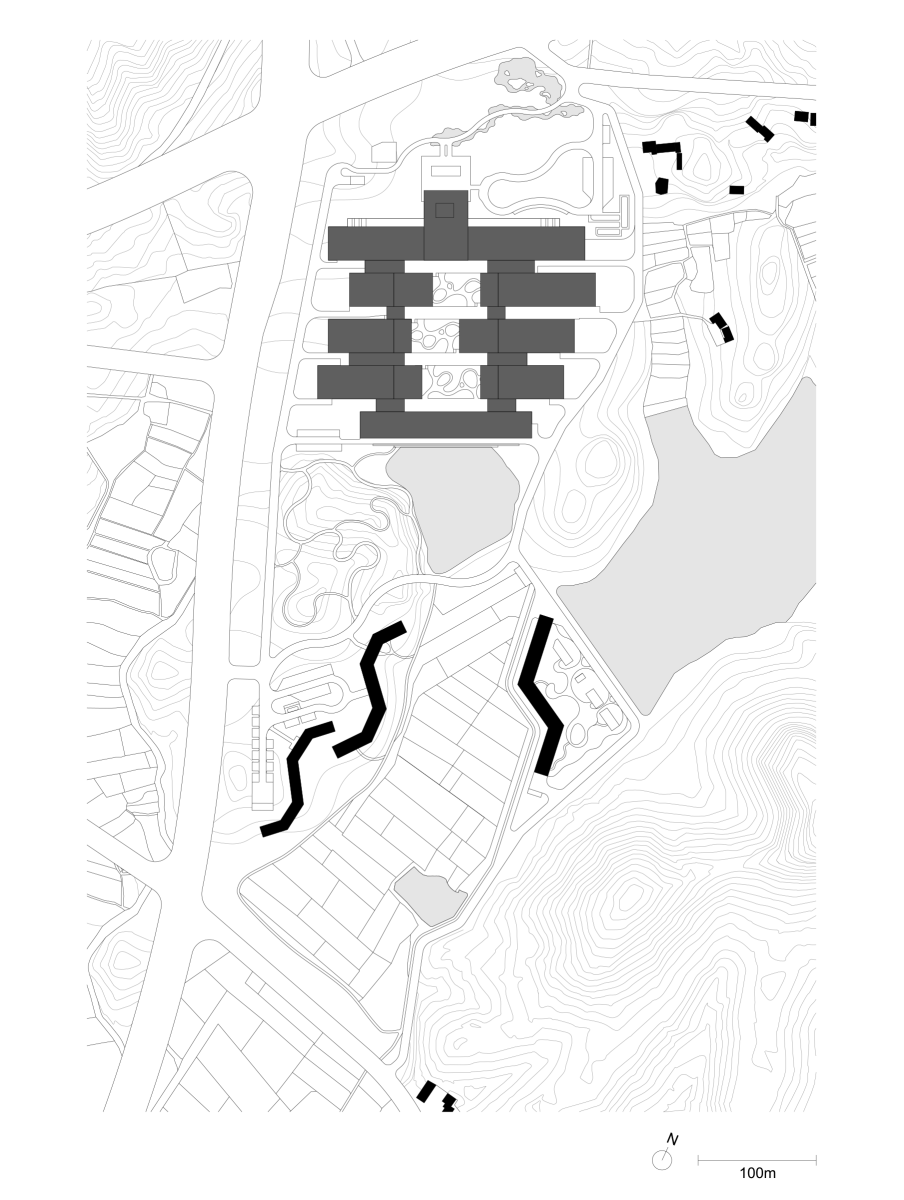 总平面图 Site plan © David Chipperfield Architects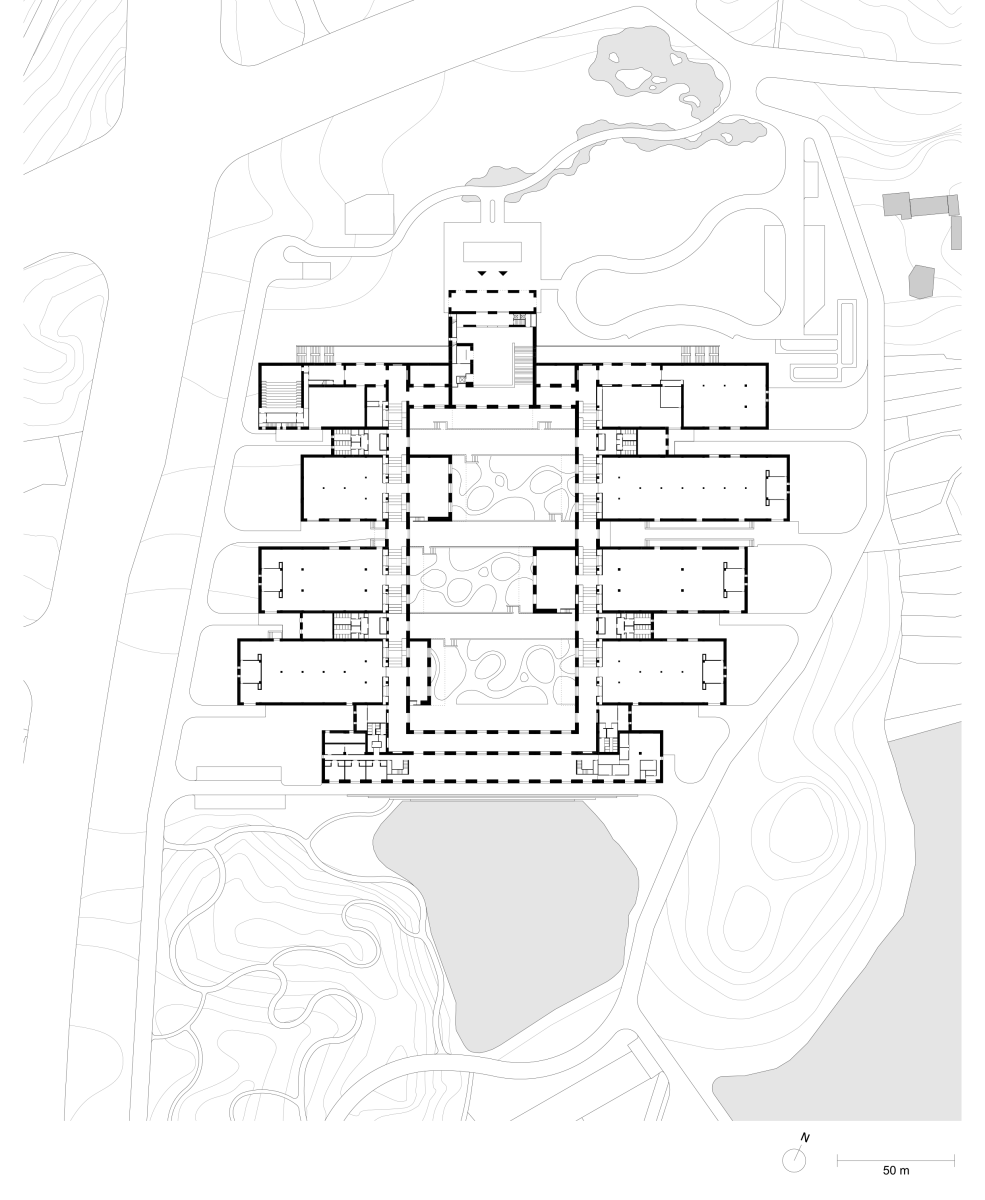 叠加平面图 Virtual overlapping floor plan © David Chipperfield Architects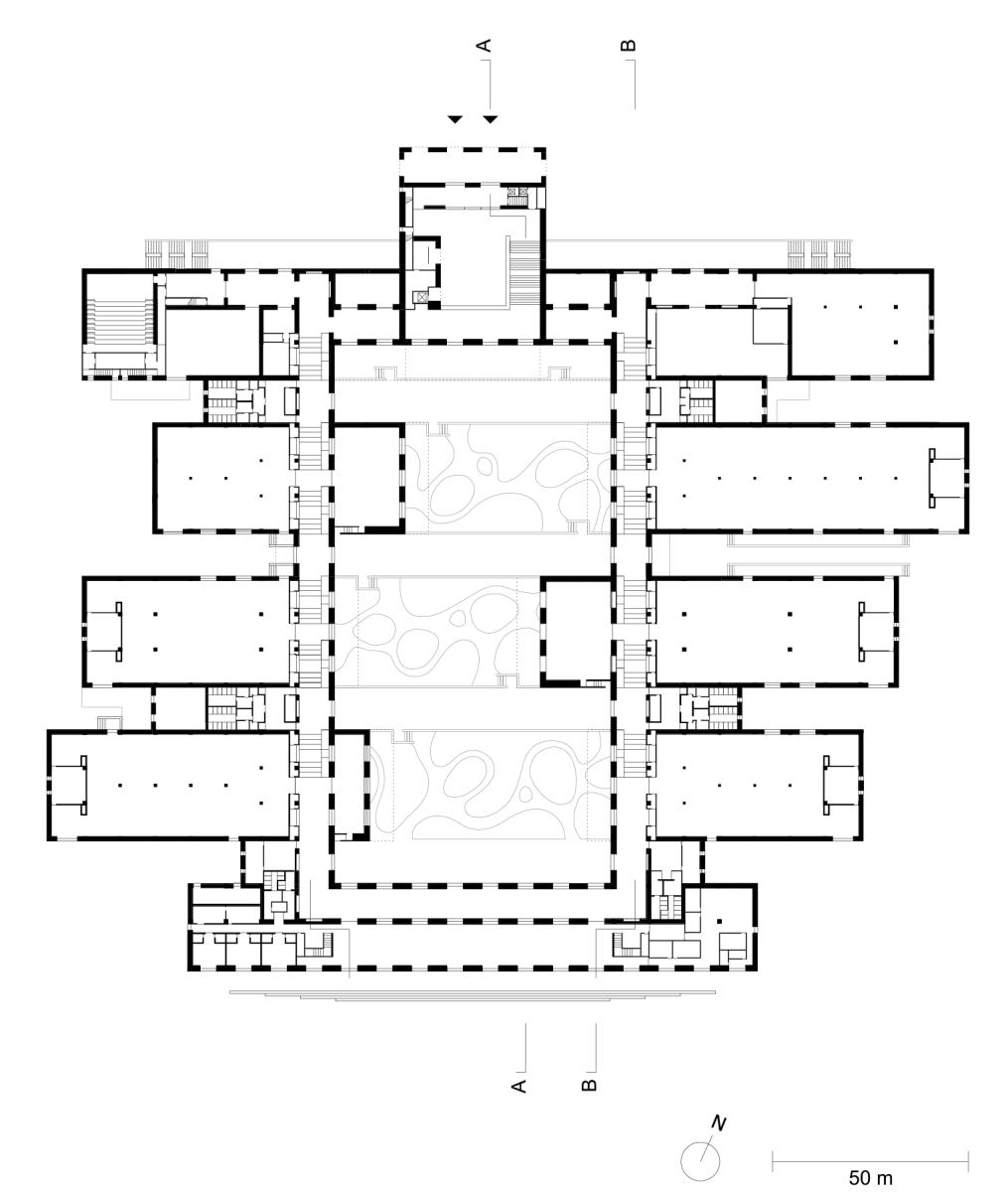 含剖切线叠加平面图 Virtual overlapping floor plan with section lines © David Chipperfield Architects

AA剖面图 Section AA © David Chipperfield Architects

BB剖面图 Section BB © David Chipperfield Architects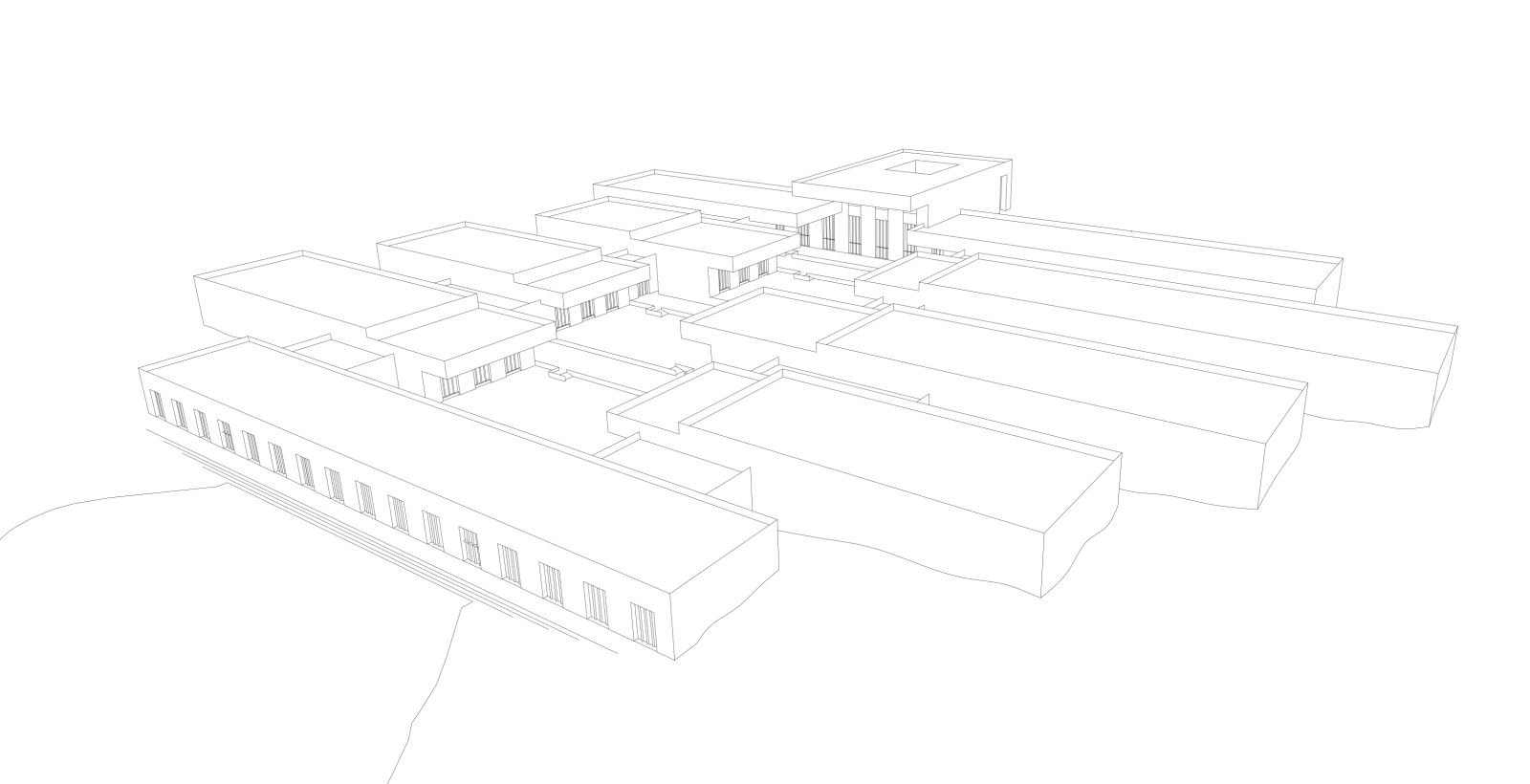 东透视图 Perspective from the east © David Chipperfield Architects
项目信息
竞赛:2014
项目开始:2014
建筑开工:2015
建筑完工:2018
开馆:2019
建筑面积:58000平方米
业主:浙江自然历史博物院、安吉县人民政府
建筑师:戴卫·奇普菲尔德建筑事务所上海办公室
合伙人:戴卫·奇普菲尔德、Mark Randel(设计主创)、陈立缤
项目建筑师:Alessandro Milani(竞赛)、Miguel Angel(概念设计、方案设计)、沈慧雯(方案设计、初步设计)、李初晓(现场艺术监理)
项目团队:Hans Christian Buhl、杜喆煦、范田园、侯京慧、Andrew Irvin、李涵、刘慧群、潘及第、孙凤娟、Nora Wuttke、徐丽萍、周之洵;效果图:Andrew Irvin
竞赛团队:杜喆煦、孙凤娟、Nora Wuttke、徐丽萍;效果图:Alessandro Milani、杜喆煦
地方建筑师:浙江南方建筑设计有限公司,杭州(施工图设计至施工监理)
结构工程师:奥雅纳国际咨询上海有限公司,上海(概念设计)、浙江南方建筑设计有限公司,杭州(方案设计至施工监理)
机电工程师:奥雅纳国际咨询上海有限公司,上海 (概念设计)、浙江南方建筑设计有限公司,杭州(方案设计至施工监理)
建筑物理工程师:浙江南方建筑设计有限公司,杭州
灯光顾问:杭州胜乐照明设计有限公司,杭州
展陈概念策划:上海德立创意有限公司,上海
景观建筑师:Levin Monsigny Landschaftsarchitekten,柏林(概念设计)、浙江南方建筑设计有限公司,杭州(方案设计至施工监理)
Competition:2014
Project start:2014
Construction start:2015
Completion:2018
Opening:2019
Gross floor area:58000 m²
Client:Zhejiang Museum of Natural History, People's Government of Anji County
Architect:David Chipperfield Architects Shanghai
Partners:David Chipperfield, Mark Randel (Design lead), Libin Chen
Project architects:Alessandro Milani (Competition), Miguel Angel (Preparation and brief to Developed design), Shen Huiwen (Developed design, Design intent details), Chuxiao Li (Site design supervision)
Project team:Hans Christian Buhl, Zhexu Du, Tianyuan Fan, Jinghui Hou, Andrew Irvin, Han Li, Huiqun Liu, Jidi Pan, Fengjuan Sun, Nora Wuttke, Liping Xu, Zhixun Zhou; Visualisation: Andrew Irvin
Competition team:Zhexu Du, Fengjuan Sun, Nora Wuttke, Liping Xu; Graphics, Visualisation: Alessandro Milani, Zhexu Du In collaboration with
Local design institute:Zhejiang South Architecture Design Ltd., Hangzhou (Technical design to Construction supervision)
Structural engineer:Ove Arup and Partners Ltd., Shanghai (Concept design); Zhejiang South Architecture Design Ltd., Hangzhou (Developed design to Construction supervision)
Services engineer:Ove Arup and Partners Ltd., Shanghai (Concept design); Zhejiang South Architecture Design Ltd., Hangzhou (Developed design to Construction supervision)
Building physics:Zhejiang South Architecture Design Ltd., Hangzhou
Acoustics:
Lighting consultant:Sunlux Lighting Design, Hangzhou
Exhibition planning:Triad China Ltd., Shanghai
Landscape architect:Levin Monsigny Landschaftsarchitekten, Berlin (Concept design), Zhejiang South Architecture Design Ltd., Hangzhou (Developed design to Construction supervision)