跑瓦健身房丨墨照建筑设计事务所
Powerfit Studio丨MOZHAO ARCHITECTS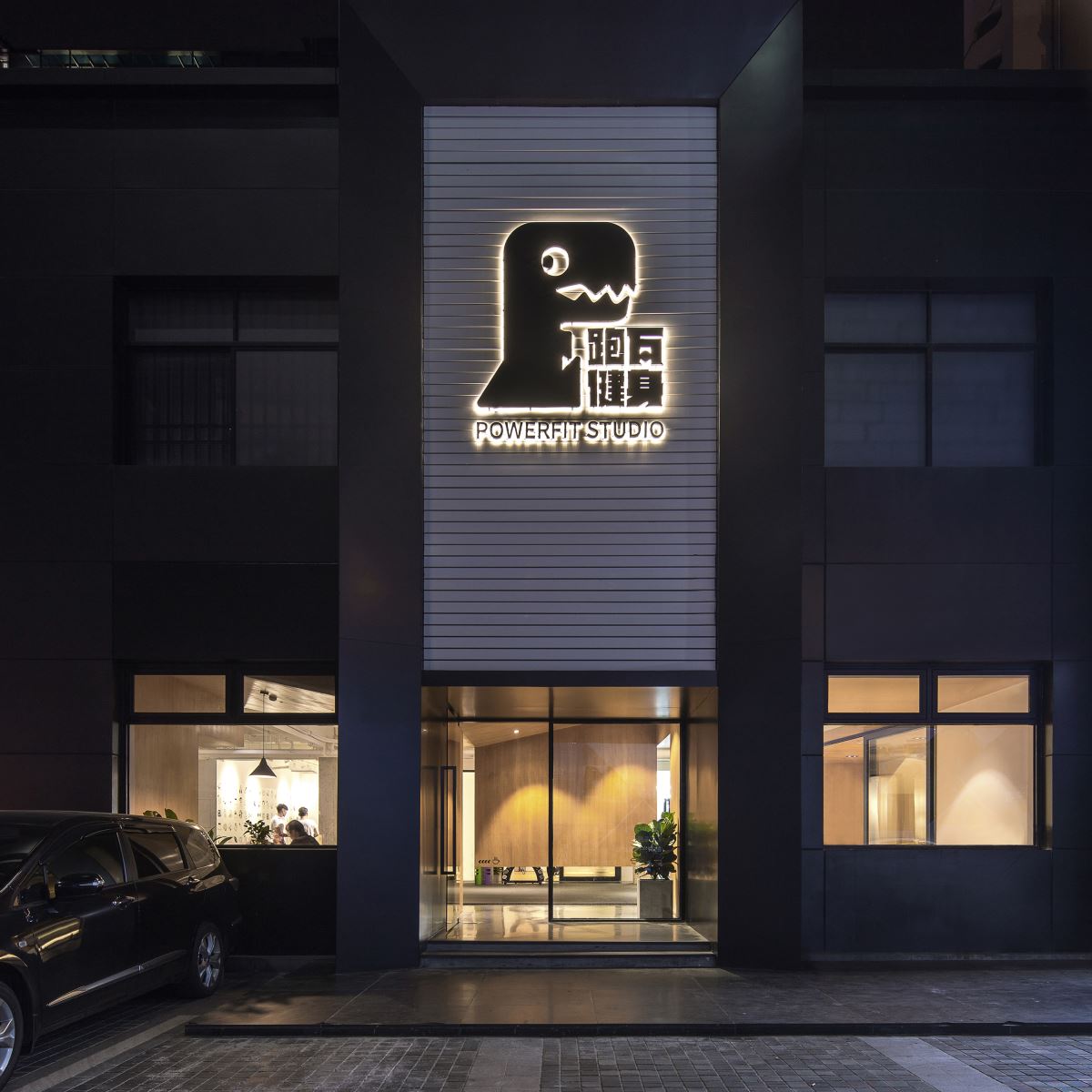 入口丨The entrance image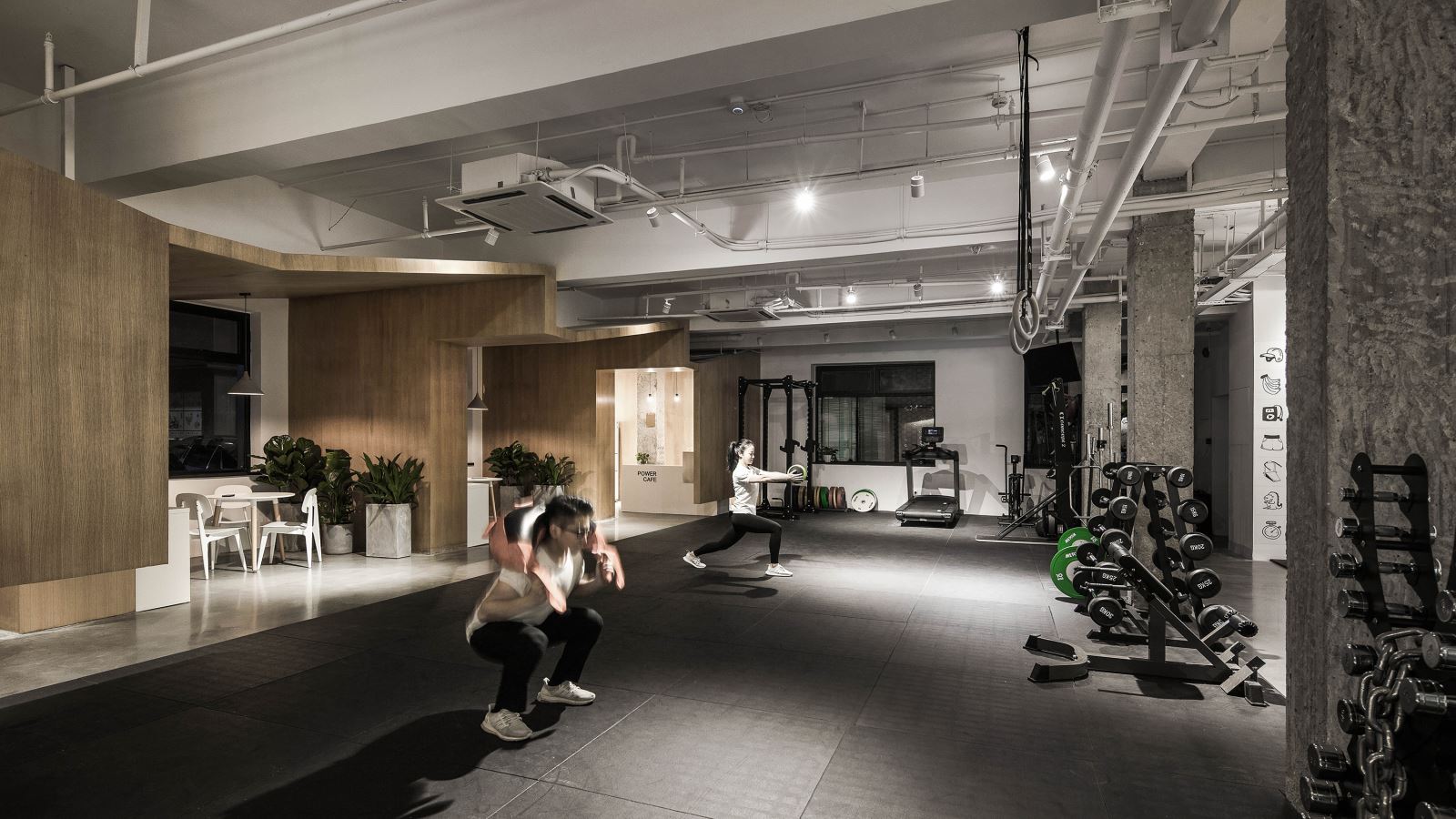 综合训练区丨Comprehensive training area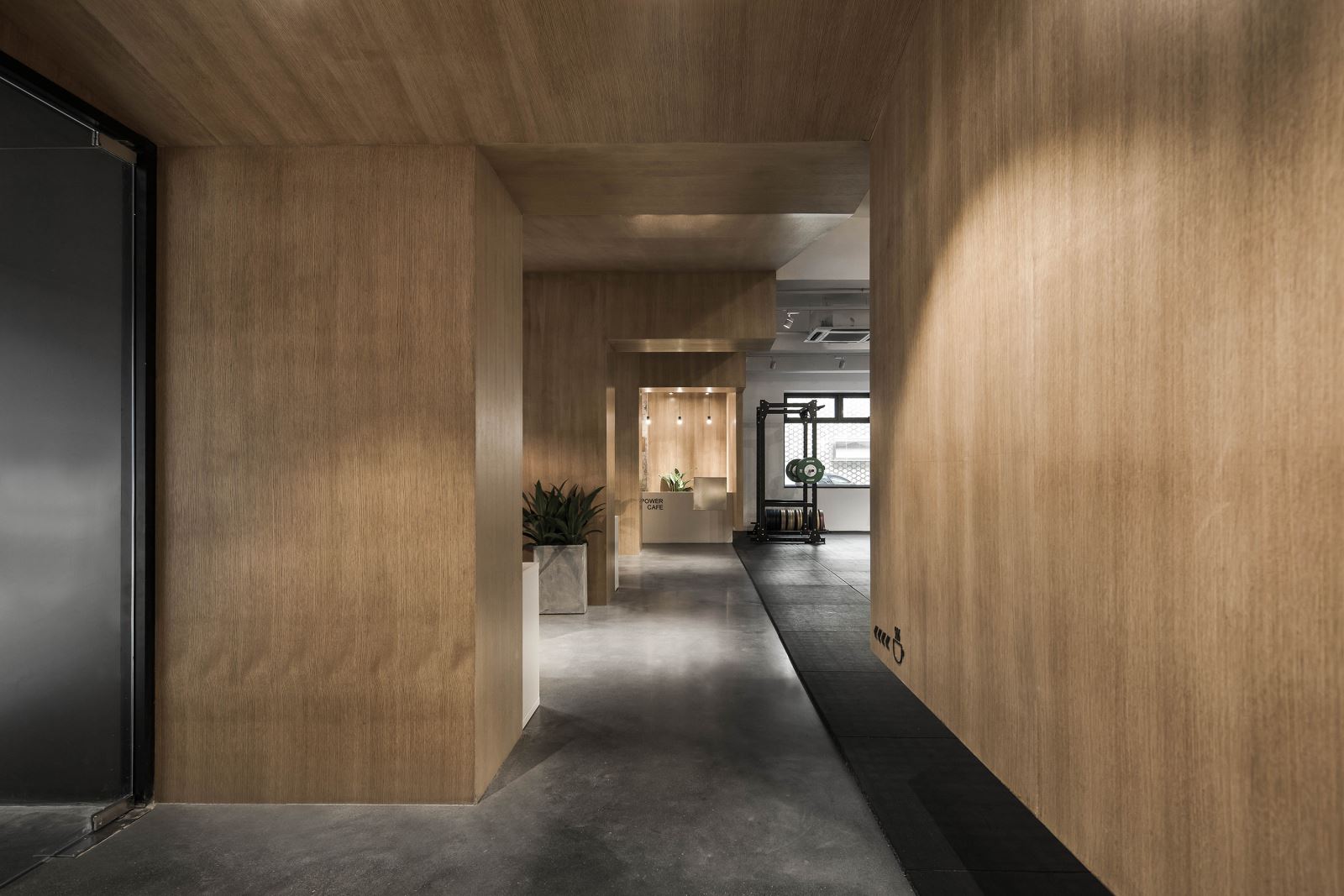 入口空间看休闲区丨Viewing from the entrance space to the leisure area
项目位于深圳罗湖区田贝泰美工业园区内,业主是具有设计留学背景的90后创业者,他的诉求是空间设计能与健身方式的理念相吻合。随着生活方式的转变,健身房不仅是锻炼身体的地方,而且是一个社交和传播健康生活的场所,满足都市中白领对新的生活方式和公共空间的期待与想象。因此健身房里包含了一系列的休闲、会客、餐吧和茶室功能。
在整体布局中,综合训练区位于核心部位,并能直接采光与通风。所有的空间均围绕此展开,并形成通透和不同私密等级的公共空间。休闲区安排在最佳的靠窗位置,联系着综合训练区和入口空间,直角三角形的坡屋顶空间造型突出强调了休闲区的公共性与重要性。坐在休闲区的人在观看训练时,也能与训练区的人进行互动。
The project locates in the Taimei Industrial Park, Tianbei Road, Luohu District in Shenzhen and the client is a post-90 entrepreneur with the design background of studying abroad. He hopes that the interior design features his concept of fitness. As lifestyle changes, a gym not only functions as a physical exercising place, but also provides the place for social activity and to promote a healthy lifestyle, which can meet the expectation and imagination of white-collar workers in the city for a new lifestyle and public space.
As a result, the space includes a series of leisure spaces: a meeting room, a dining bar, and a tea room. In the whole layout of the space, the comprehensive training area is in the core place, which can directly get the natural daylighting and ventilation. All the spaces are organized around this place, forming transparent public spaces with different levels of privacy. The leisure area locates at the best position near the window, connecting the comprehensive training area with the entrance space. The form of the right-triangle sloping roof highlights the publicity and importance of the leisure area. The people sitting in the leisure space can interact with the person in the training area while watching them exercising.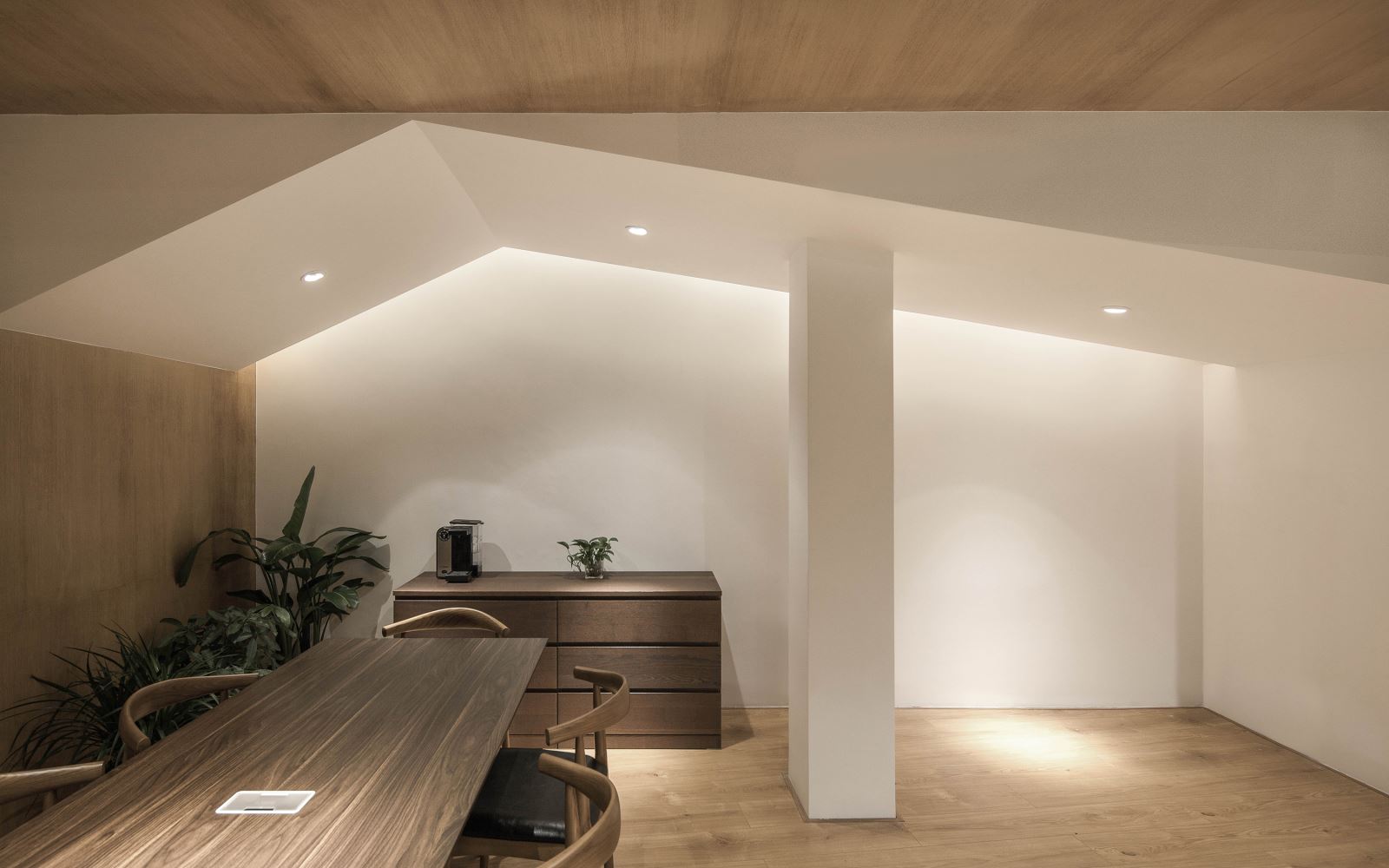 茶室丨Teahouse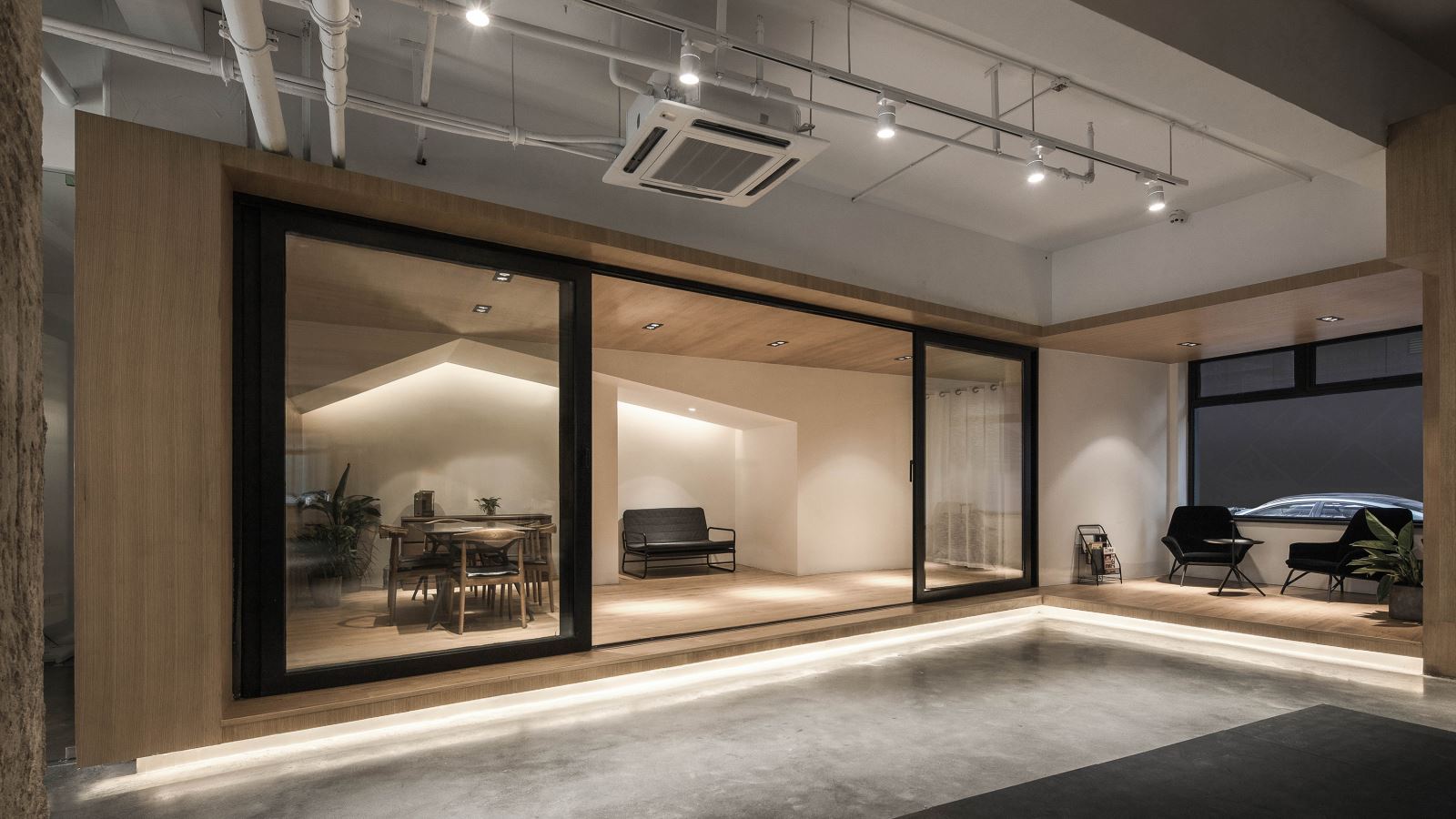 综合训练区看茶室丨Viewing from the comprehensive training area to the teahouse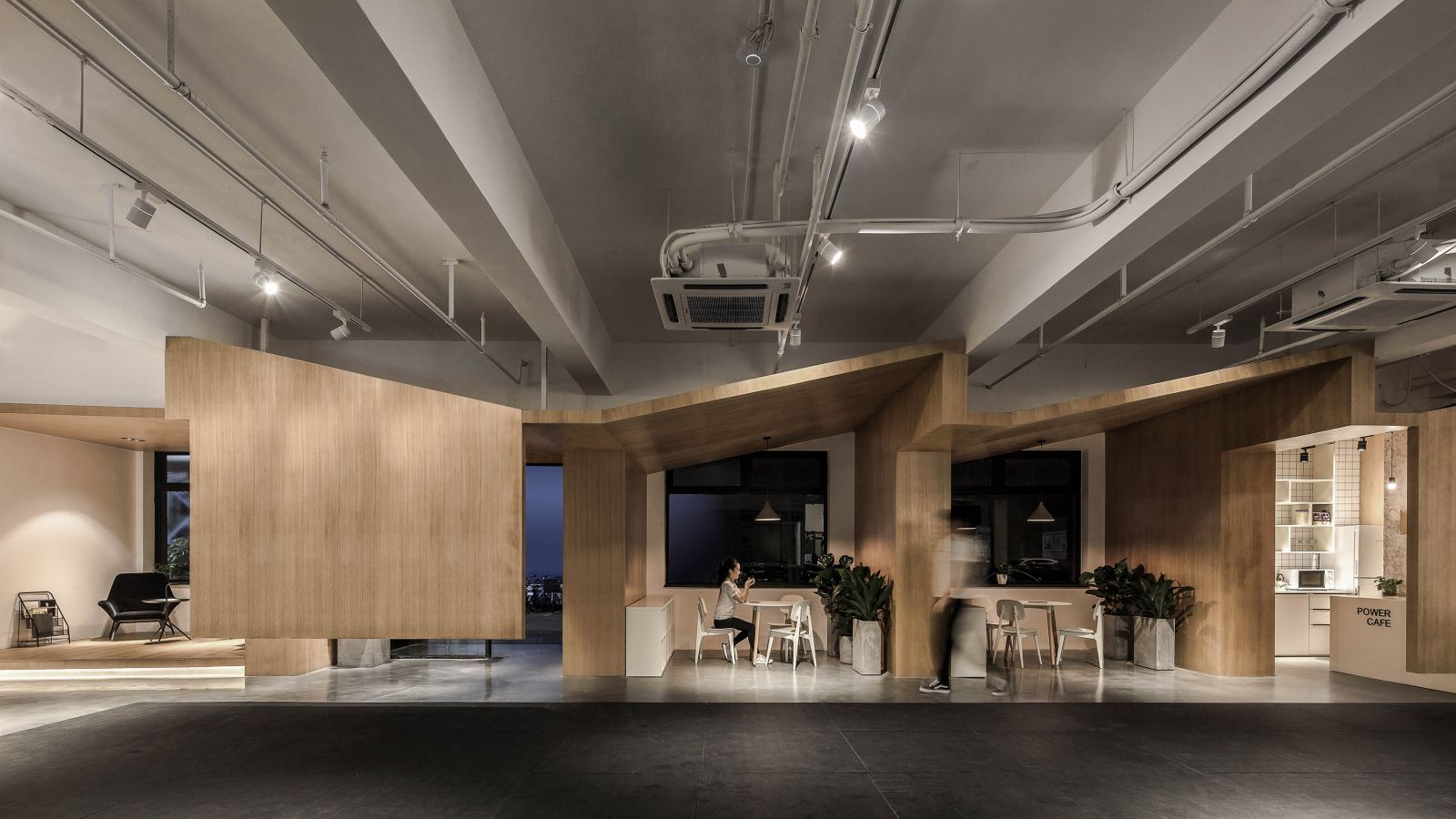 直角三角形坡屋顶造型丨Right triangle sloping roof shape
此外,健身房所在的老厂房里布满大大小小的柱子,并且部分柱间距很小。设计通过平面墙体的布置,消隐弱化柱子的存在感以及柱子对空间使用的不便。同时,一排裸露的混凝土柱子则呈现出另一种序列感及质朴的美感。材料方面,地面采用吸震、防滑的橡胶垫以及金刚砂耐磨地面,而公共空间的部分墙面与地面则采用白橡木材料,健身房因而具有几分的温馨与亲和感。
In addition, the old factory building where the gym locates is full of different sizes of pillars, and column space is very small. By arranging walls in the layout, eliminates and weakens the sense of the existence of the pillars and the inconvenience of using the space with pillars. Meanwhile, the exposed concrete pillars present a unique order and the beauty of the plain. As far as the material is concerned, the floor uses emery wear resistant floor and the rubber mat which can absorb shock and prevents slippery. Part of the wall and floor in the public space use white oak material, creating a warm and cozy atmosphere.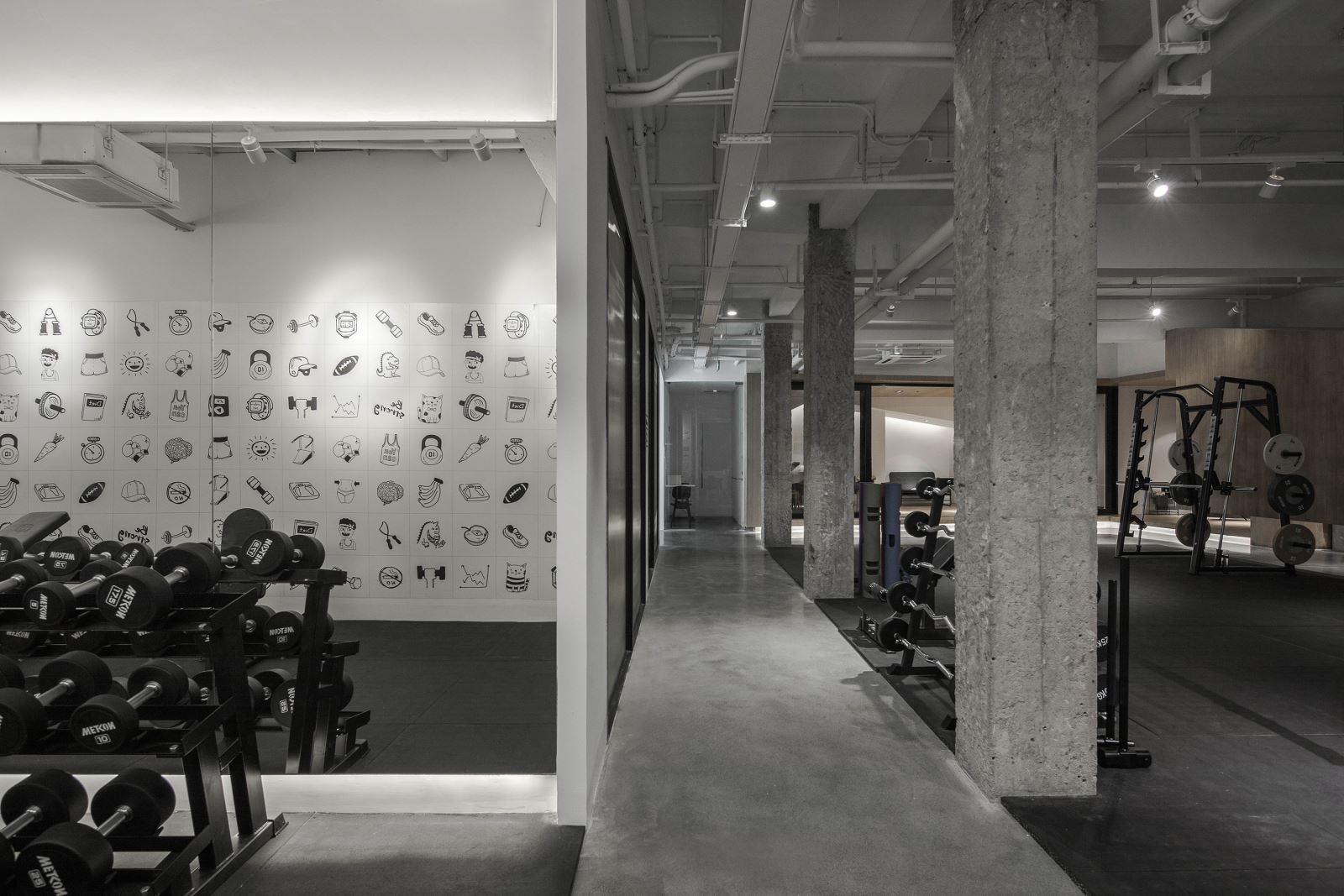 裸露的混凝土柱子丨Exposed concrete pillars
器械训练区丨Equipment training area