佳客里公寓改造 | Jiakeli Apartment Renovation
项目获得2019年美国建筑大师奖最佳社会住房奖。
The project won the best award for Social Housing in the 2019 Architecture MasterPrize.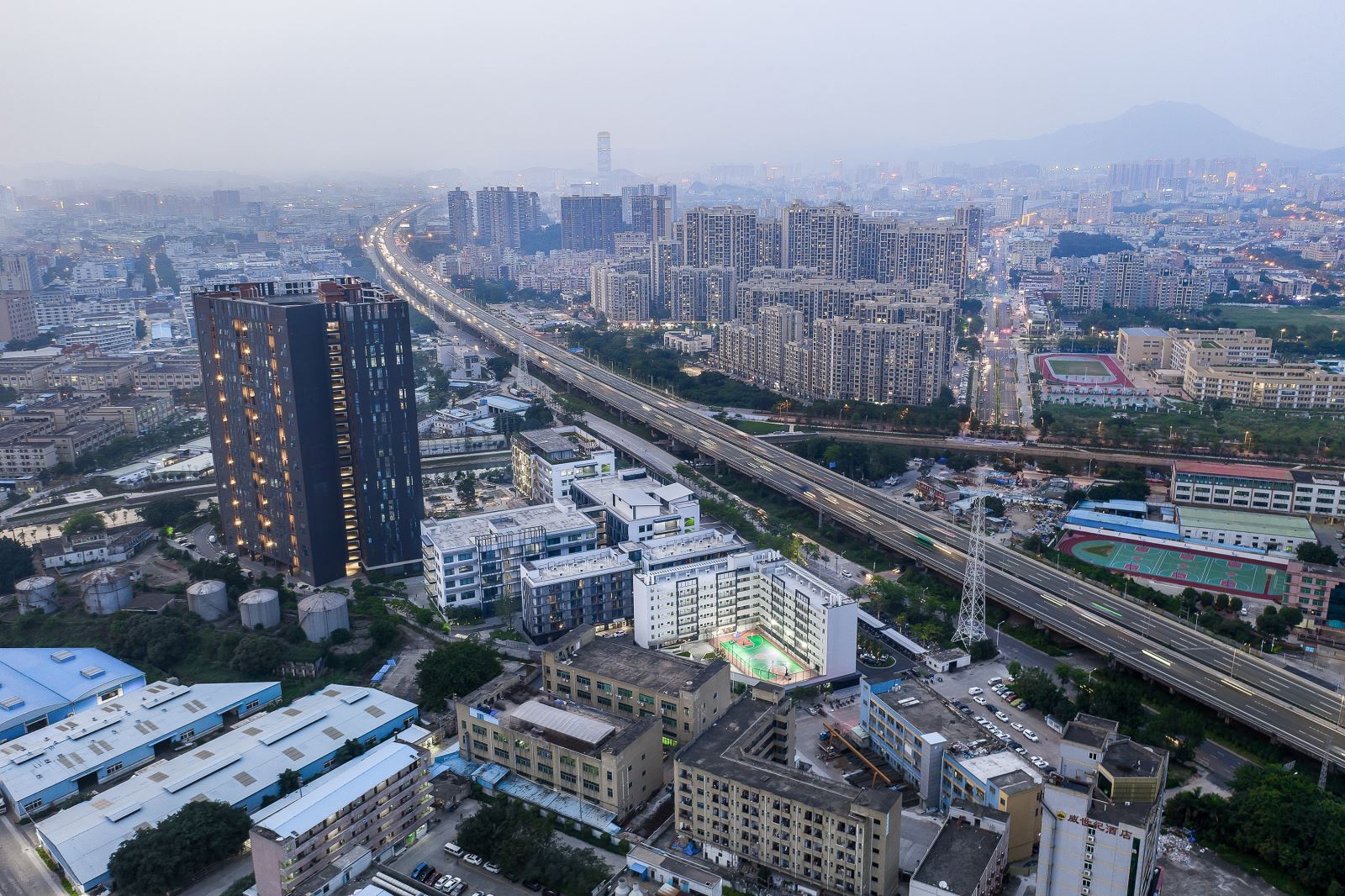 公寓处于低端行业环境中丨The apartment in the low-end industry enviroment
俯瞰A栋和B栋丨Aerial view of block A and B
改造前的建筑是一个市中心外的工厂园区的配套宿舍。国家的产业升级战略、劳动力成本和生产成本的增加以及环保政策的实施使低端产业外迁,条件较差的园区宿舍逐渐空置。同时,地铁交通的建设、市中心高额的居住租金和生活成本的提高迫使大量白领搬到市中心外居住。另外,粗放式发展年代的大部分商品住宅因缺少公共功能而缺失社区性。此项目的改造希望提升原有空间的生活品质,创建一个多元的、生活丰富的社区。
The pre-renovation building is a supporting dormitory for the factory in suburban. The national industrial upgrading strategy, the increase in labor and production costs, and the implementation of environmental protection policies have led to the relocation of the low-end industries, and those dormitories in bad condition have been gradually vacant. At the same time, the infrastructure of subway transportation, the high housing rent in the city center, and the rising cost of living have caused a large number of white-collar workers to move out to live. Moreover, most commercial residential buildings of extensive development era lack the sense of community due to the deficiency of public programs. The renovation project hopes to not only improve the quality of original space, but also create a diverse and life-rich community.
改造前的外走廊L形宿舍丨The L-shape dormitory building of external corridor before renovation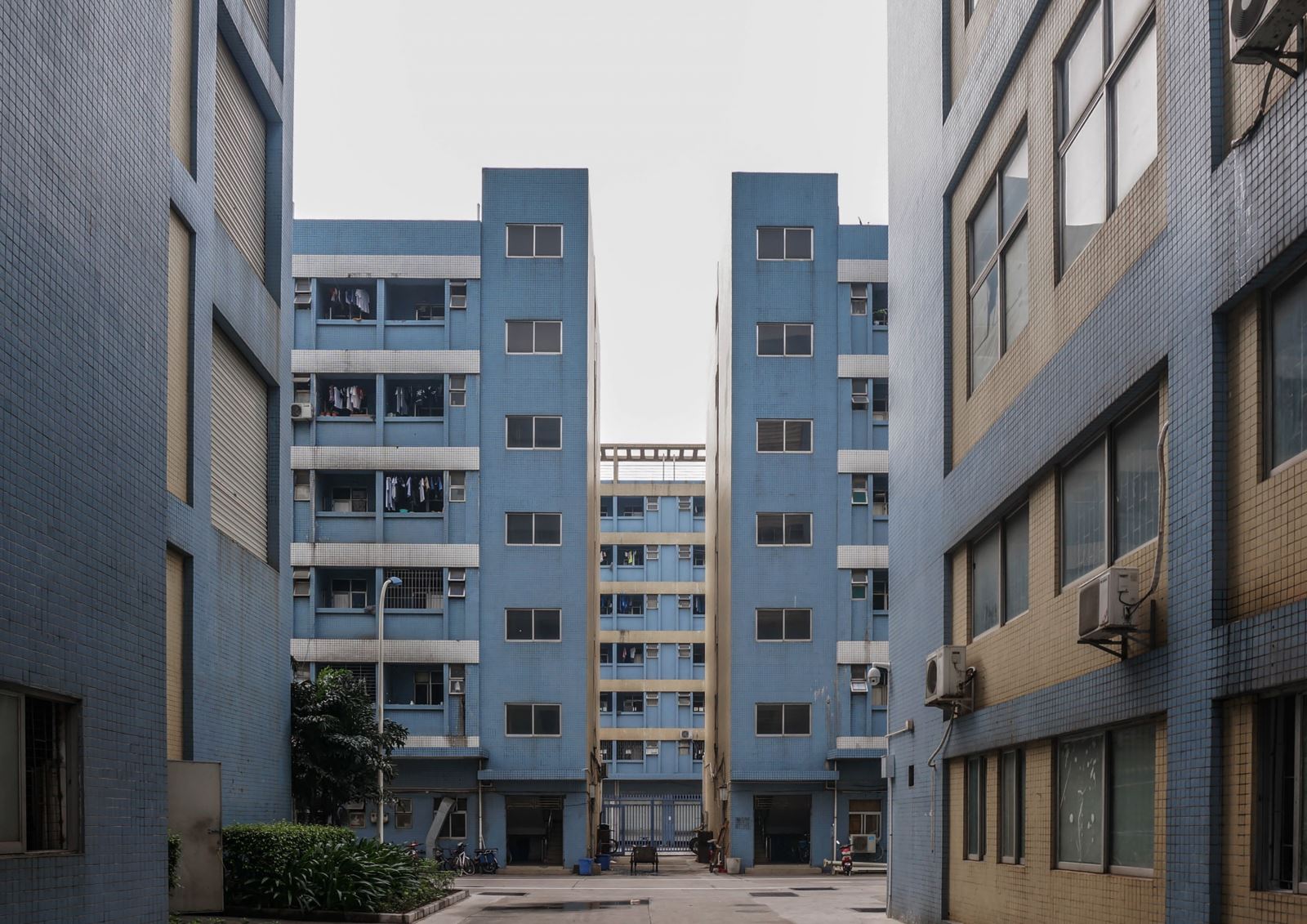 改造前的两栋内走廊宿舍丨Two dormitory buildings of internal corridor before renovation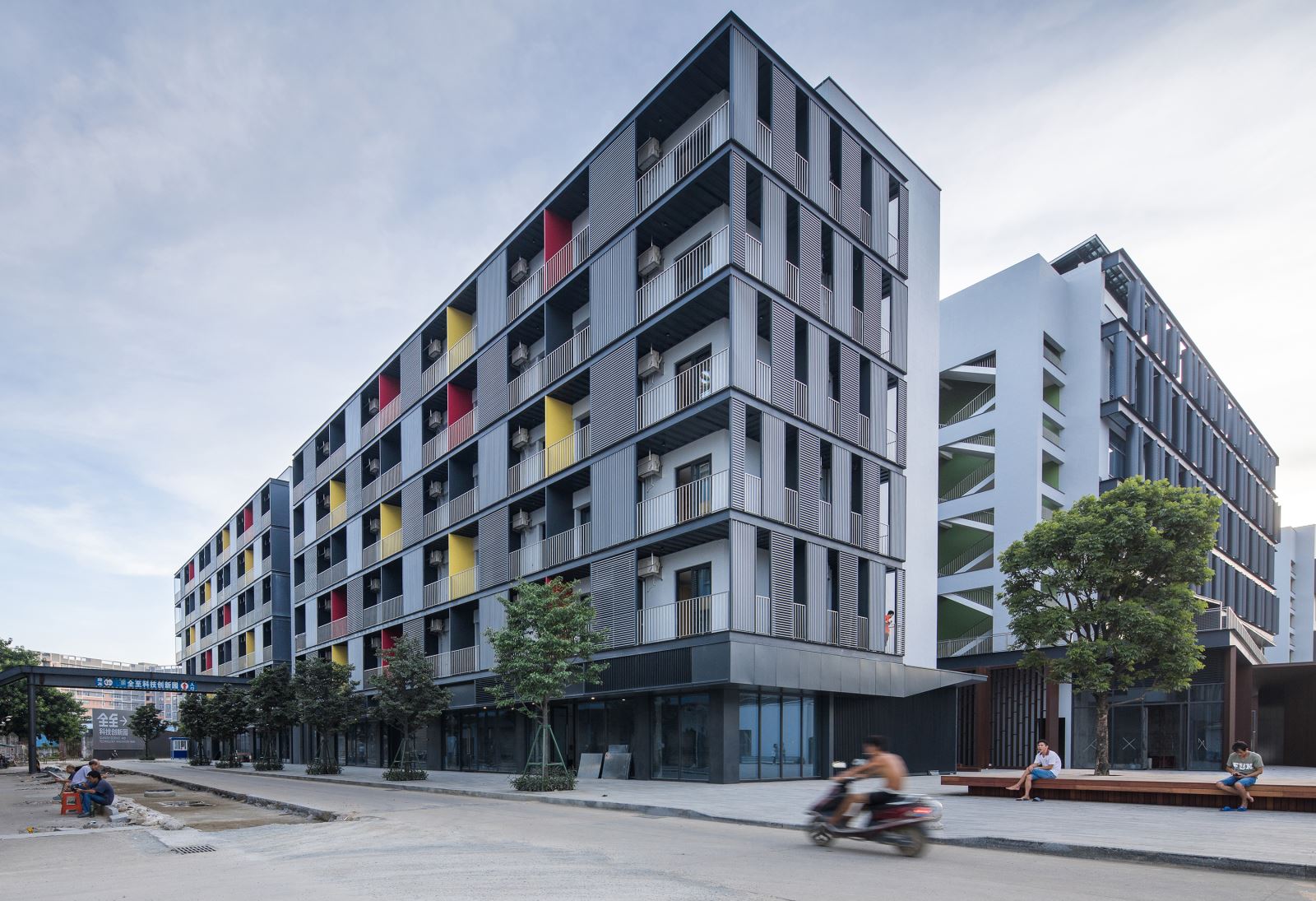 B栋外观丨Facade of block B
原有的一万平方米宿舍由三栋建筑组成:两栋相同的内走廊平面布局的建筑和一栋外走廊平面布局的"L"形建筑。设计通过在两栋内走廊的建筑之间设置电梯厅,把两栋建筑连成一体。利用一体后疏散的联通性,把其中一个楼梯改造成两个电梯井。连体的B栋公寓户型主要是单间,而在更好采光条件的建筑两端设置了一房一厅和两房一厅户型。"L"型外走廊A栋公寓的户型则是一房一厅。客厅布置在靠外走廊一侧,外走廊成为联系每个居住单元的公共空间。A栋公寓的二层屋顶平台改造成对外开放的室外篮球场,外走廊也成为观看篮球的最佳看台。
The original 10000㎡ dormitories have three buildings: two buildings that have the same layout of internal corridors and an L-shape building of external corridor. The two buildings are integrated together by adding an elevator hall between them. One of the stairs is transformed into two elevators due to the connectivity of evacuation after the combination. The main room type of Block B is single room, and there are one-bedroom units and two-bedroom units at both ends of the building which have better natural lighting conditions. The main room type of Block A is the one-bedroom unit. Living rooms are near the external corridor, making the corridor a public space for connecting each living unit. Meanwhile, the second-floor roof terrace of Block A is transformed into an open outdoor basketball court and the external corridor becomes the best stand for watching a basketball game.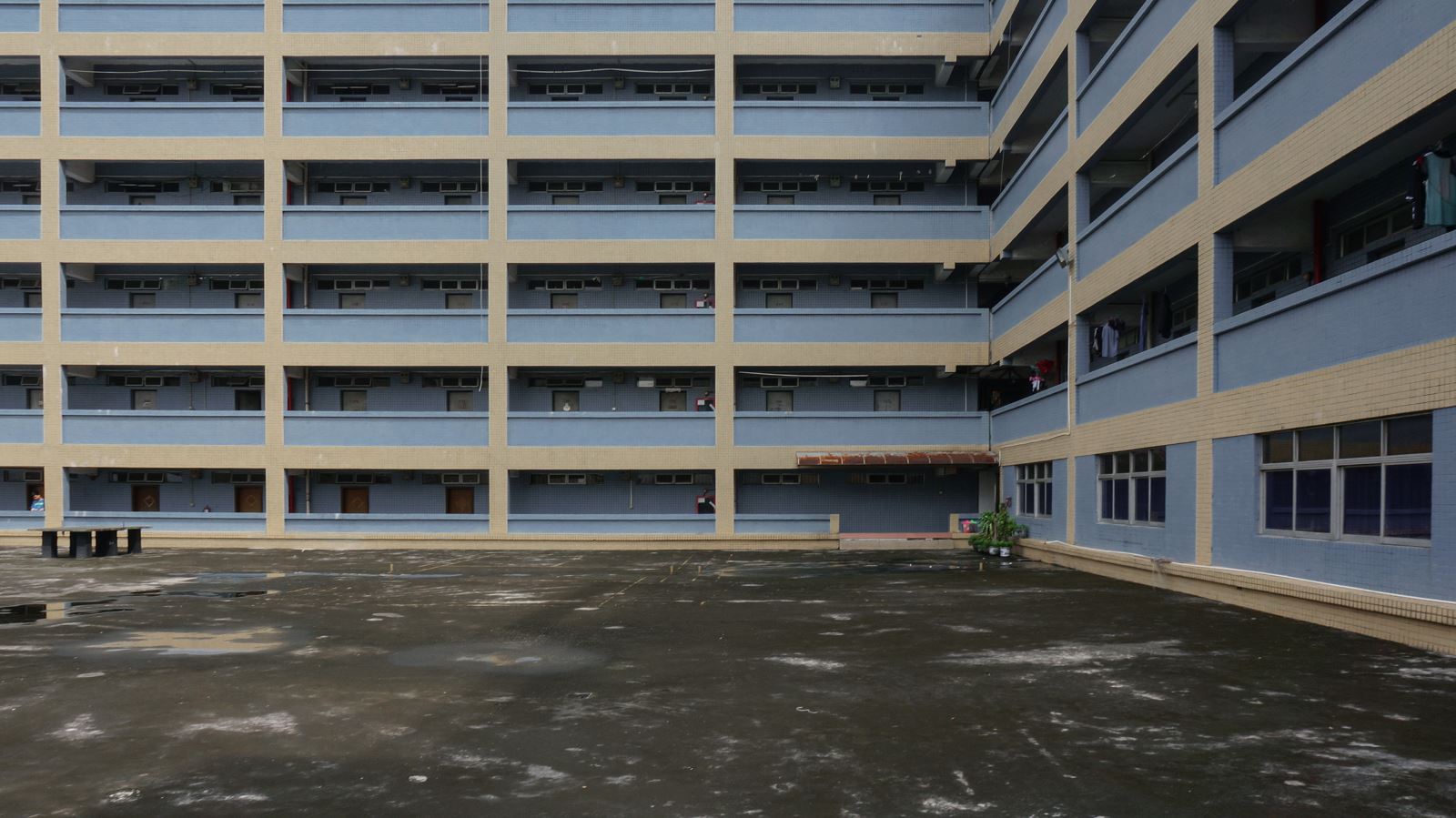 改造前的A栋二层屋顶平台丨The second-floor roof terrace of Block A before renovation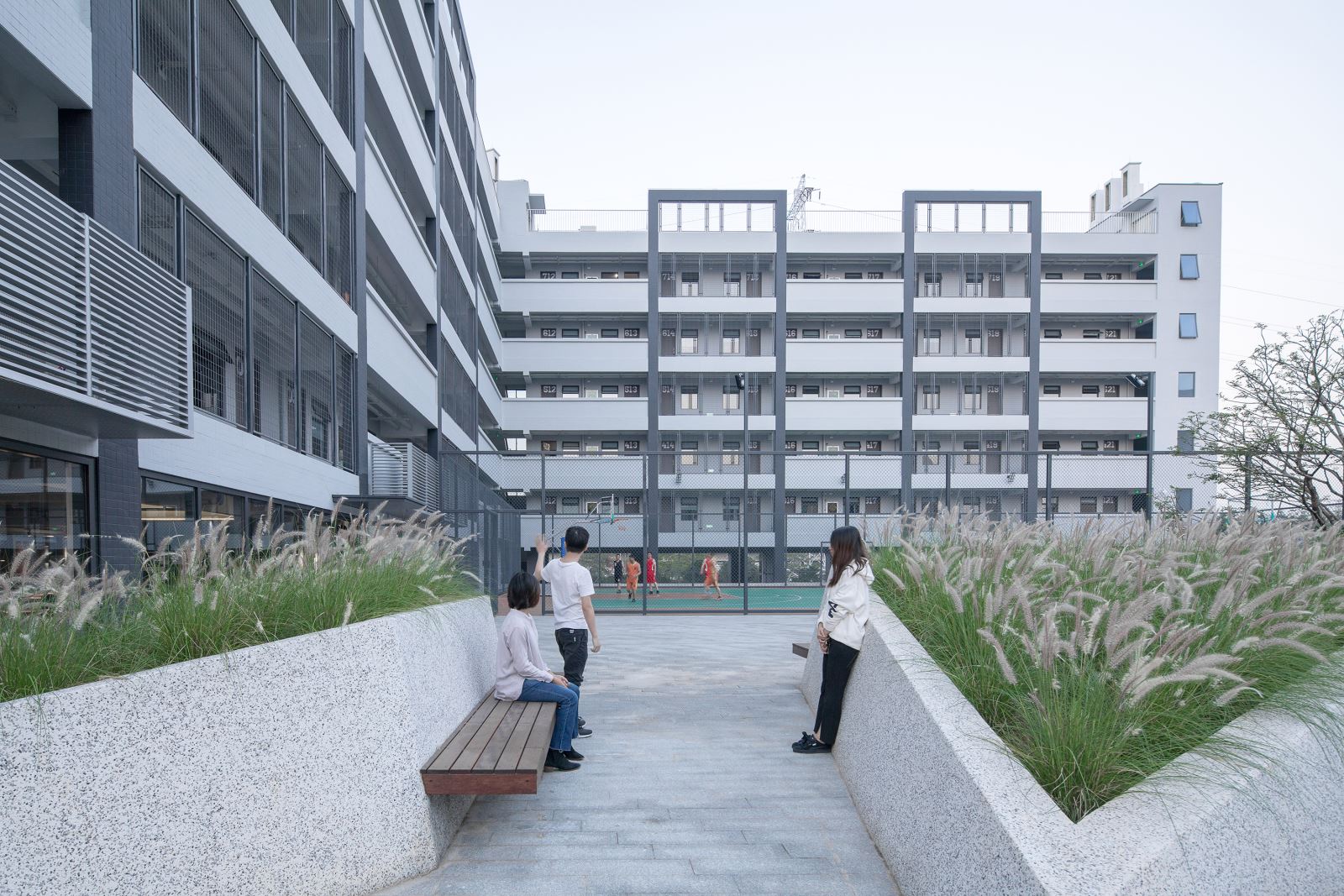 改造后的屋顶休闲区丨Rooftop recreation area after the renovation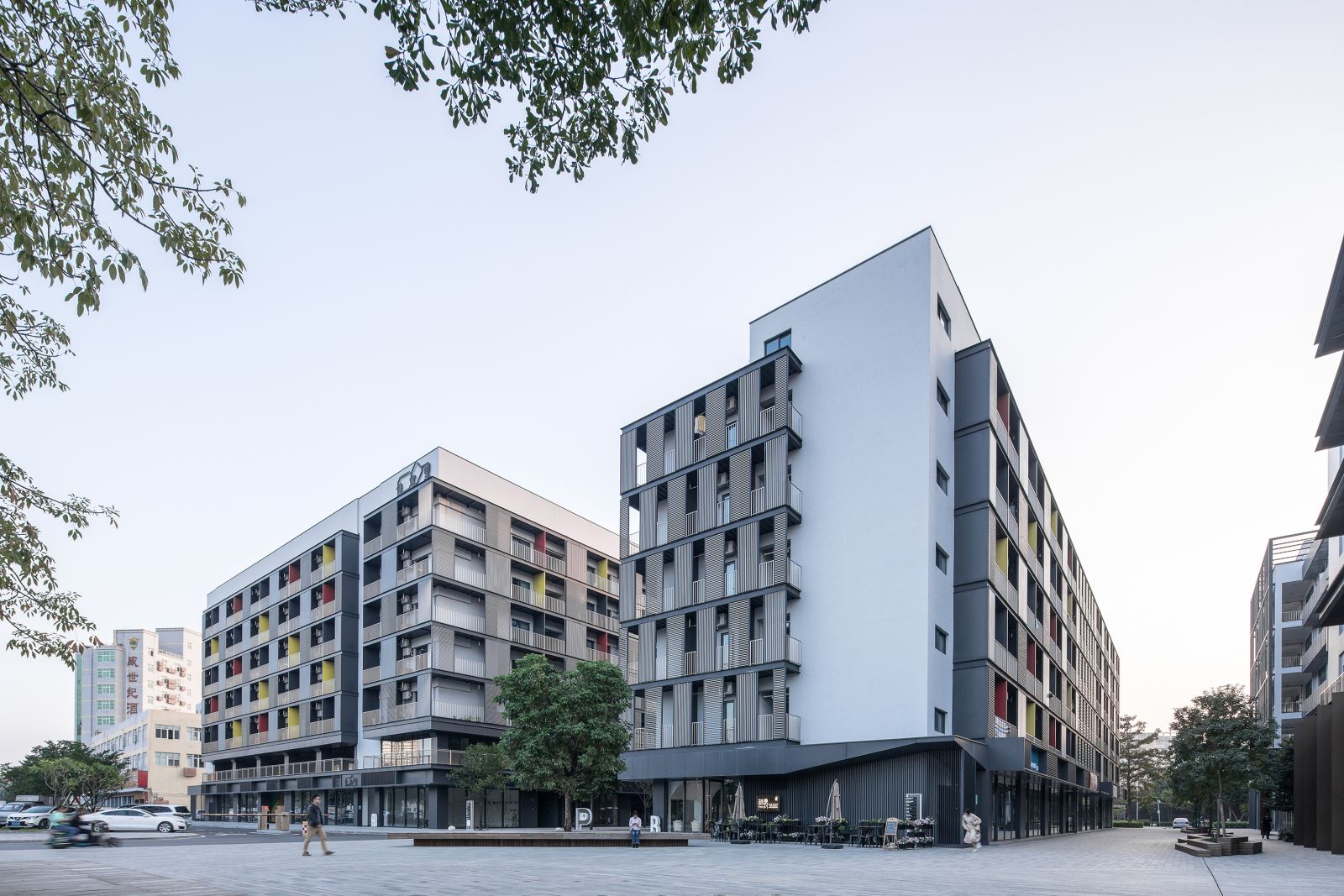 公寓一层底商和广场丨Base business and square on the first floor
改造前的宿舍布局只满足休息功能,空间狭小